Ergonomics of Kitchen Design
With Staunton Henderson & Noel Dempsey Design
Kitchen designs need to be increasingly clever, balancing beauty and usability to create a multifunctional hub that caters to the demands of cooking, hosting, relaxing, and working, across many years of use.
Dartry kitchen, New Hampshire Collection, Noel Dempsey Design
[image courtesy of noeldempsey.com]
Staunton Henderson exclusively spoke to expert Lynne Baillie to bring you the core principles for designing a great kitchen. And if anyone knows how, it's her! She's one of the great minds behind Noel Dempsey Design, a renowned custom kitchen and furniture company with meticulous standards and a reputation to match. The company has over twenty-six years' experience and have won a whole host of awards for everything from their creative approach to outstanding service. Lynne herself is one of the trailblazers in this area, most recently winning the IKT Classic Design Award for 2018. Noel Dempsey Design boasts some of the best talent in the industry amongst their team, and alongside their own breathtaking ranges, they can create fully bespoke kitchens tailored down to the last detail.
Here's some of her best advice…
Layouts
Kitchen layouts conventionally follow the work triangle formation, which governs the placement of the sink, fridge and stove. Standard distances between these key work stations are usually no less than 1.2 metres together and no more than 2.7 metres apart. This reduces the number of steps between each of the main activities in the space, which are often running concurrently.
This is a principle that Lynne still starts with, allowing the concept to inform her thinking at a top level. She also uses the logic of the work triangle to govern other processes within the kitchen, for instance, she states that grouping the wet areas improves usability.
"The sink, dishwasher and bins all need to be together, with dishwasher on one side of the sink and bins on the other. This means that one can scrape into the bin and load into the dishwasher. Within a 'swing' or heel turn from the dishwasher you ideally want to have the main crockery and cutlery zones to make unloading the dishwasher easy and effortless."
Adelaide Kitchen, Modern Collection, Noel Dempsey Design
[image courtesy of noeldempsey.com]
Islands are an increasingly popular choice in open layouts, creating an additional station within the existing space and dividing the room into zones. To stay within a functional step count without being crowded, these should sit within an ideal range of 1 metre and 1.2 metres to the back run.
There's debate among designers as to the best use of an island. Lynne prefers to keep islands free from hobs and sinks, reducing the working zones and potential for clutter in favour of space for social functions. However, rules are meant to be broken, and if a client needs the option to look out onto the room whilst cooking, for instance to keep an eye on children or host get togethers, it's essential to consider how to make this work. This can be done either through the layout or through product specification which enables a visual event to be made from functional items. So long as there's plenty of storage to reduce potential mess of course!
Aughrim Kitchen, English Collection, Noel Dempsey Design
[image courtesy of noeldempsey.com]
Storage
Lynne prefers the use of drawers over any other storage solution. As she says, "the entire space [of the drawer] is utilised and seen. Unlike a cupboard where you need to hunch down to see what's at the back, drawers pull out to you so you don't miss anything."
Concealed appliances are another favourite with designers and clients alike. People are embracing gadgets like coffee machines and NutriBullets in addition to standard electricals like toasters and kettles. The ability to leave these plugged in (but naturally, switched-off to prevent electricity wastage!) without loosing worktop space or ruining a clear lined aesthetic is created through inset counters and plug points hidden behind joinery.
Dartry kitchen, New Hampshire Collection, Noel Dempsey Design
[image courtesy of noeldempsey.com]
Style
Trends for kitchen style fluctuate but visiting showrooms is undoubtedly the best way to get started. Arranging visits allows clients to get a realistic view of the range of looks available and experience first hand how the designs 'feel' without the commitment. It also offers the opportunity to interact with kitchen components, handling materials and comparing the feel, durability, and weight of products which could govern the eventual selection that comprises the style of the kitchen.
Lynne tells us that a key trend in design is the creation of a less cluttered look, echoing the storage solutions which allow for items to be stowed away out of sight and reducing the number of wall cabinets overhead. This creates space to incorporate artwork, lighting, and tiling which enhances the view back to the kitchen in an open plan configuration.
Pocket doors, Noel Dempsey Design
[image courtesy of Lynne Baillie]
Dark colours are also a major trend for the coming years, with Lynne pointing to rich greens, blacks and dark timbers as major styles. She states that these palettes can be particularly striking when paired with metallics that offer warmth, such as brass. These colour choices form a natural progression from the greys and blues that have more recently been the most desirable looks.
In addition, Lynne says that she's "a big advocate of introducing texture," hoping to see more of this in 2019 and beyond. Combining different textures in the same tones is a good way to work with colour. Selecting a palette and adding depth and interest through a mixture of materials and finishes creates a coordinated look that still makes an impact.
Edward Road kitchen, New Hampshire Collection, Noel Dempsey Design
[image courtesy of noeldempsey.com]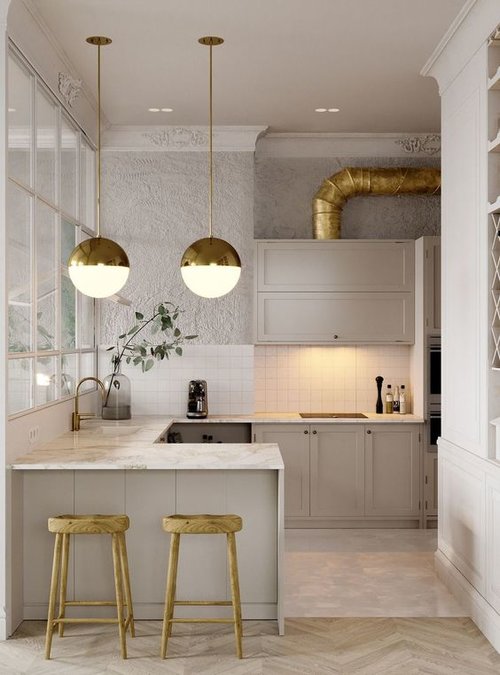 ....and we will get back to you asap with some advice